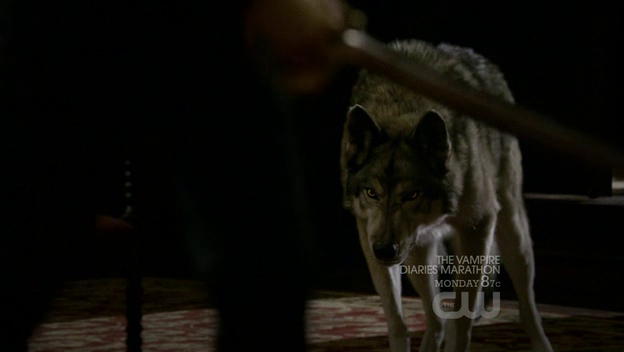 My quest took over my consience and I forgot that night was a full moon. I was in the woods still searching for those traces … but that pathetic mutt just had to be there. Of course I knew who she was. She's the only one capable of sniffing me out and search for me. This time I wasn't as lucky as last time. Hitting her didn't help me much. I still got bitten. *growls silently* I will get her at her weakest exactly like she loves to play it. Two can play this game and don't I love it.
I'm just a girl looking for a partner in crime.
Katherine smirked. She could enjoy some company right now to take her mind off her messy past. She put her comb down and grabbing her dress to avoid stumbling over it, she got up and faced him, smiling an innocent smile. "How nice of you, Mr. Salvatore. I'd really love that." She got a few steps closer to him and with the same smile she continued. "You could help me get this dress down. I have no idea where Emily's gone now and the corset is making breathing harder for me." As the words left her mouth she turned her back to him pulling her hair in front, clearing the back of her dress for him.
"Kol?" Katherine asked surprised. "Isn't he the original with a werewolf girlfriend?"
Katherine arrived at the ball alone, without Damon for he was going to be a little late. She looked around scanning the place while she was still at the entrance. Then, she walked in smirking and grabbed a glass of champagne from the waiter that had already invited her to grab a glass. After taking a sip she moved around looking for familliar faces, enjoying Coldplay's song Yellow in String Quartet.
"Playing games, are we? Game on, lover!"
I don't even have words….I finally found Stefan today…but get this. HE DOESNT REMEMBER 1863! That was like the most important date to our sibling-like relationship. He was probably compelled…so does that mean Damon is compelled as well? At least he knows my name… But he will remember. I will do anything to have the old Stefan back. Now to just find Damon…hopefully he will remember….
// Remember that when one becomes a vampire he or she remembers even that he/she was compelled and remembers the truth aka remembers everything. Therefore judging by your story, the boys remember you weren't actually dead, meaning they probably didn't want to look for you or didn't care enough about you to look for you all these years. Neither could have Rebekah used compulsion on them to forget you since Damon only met the originals in the 21st century and Rebekah had no idea you existed not now in the 21st century nor back in the 20s when she met Damon. So I'm pretty sure Damon will go with "we didn't care enough to look for you" story. I told you this just so that you'd understand why he'd go with that story.
All three boys are back into town. Things are getting more and more dangerous. Klaus might be furious when he finds out that Rebekah drank Elena's blood a few nights ago. And the new vampire, Alyssa, what's her deal with D. and Stefan? I don't like this at all. Nor the idea that Tatia is alive and still human. Whoever brought her back to life must have some huge plans and she might be the weapon… could it be a weapon against Klaus? Mysteries… mysteries…. mysteries… all in Mystic Falls.
Bitches bonding? Look out Mystic Falls, this place just became twice as dangerous.
Dracula and his creepy-ass wife…
"I'm here now and we are together and nothing's ever gonna break us apart again… I promise."
"Ah! You're tickling me!"
Queen Theme
®